Pat Lesniak & Kathy Bolin
August 6-September 1
Location: The Little Theatre Cafe
Reception: Sunday, August 8, 2pm-4pm
Hours: Cafe Open Hours
Kathleen Bolin, Pittsford, New York
A chance encounter in the 90's with a painting class taught by the late John Peisley brought Kathleen Bolin back to painting after a hiatus raising her three sons. Since then, it has become her enduring passion. Armed with a BS in Art Education and experience teaching both elementary and high school art, Kathleen's true education came when she took up painting in oil. Until that point, she characterized herself as a "jack of all trades, master of none."
Kathleen is a member of the Salmagundi Club of NYC, and locally, she's affiliated with The Greater Rochester Plein Air Painters and is a Signature member of the Rochester Art Club. She's won multiple Best of Show Awards, participated in the Finger Lakes 65th Exhibition at MAG, has showcased her work in solo shows and participated in invitational group shows over her career.
Kathleen's work can best be described as impressionistic, painted "alla prima" from life. She strives to create works of subtlety and honesty by getting to know her subject, whether person or place, on an emotional level, eliciting in the viewer an emotional response. There is a loose character to her brushwork which gives it an expressive quality, which in turn helps define a mood.
"The painting has a life of its own. I try to let it come through." – Jackson Pollock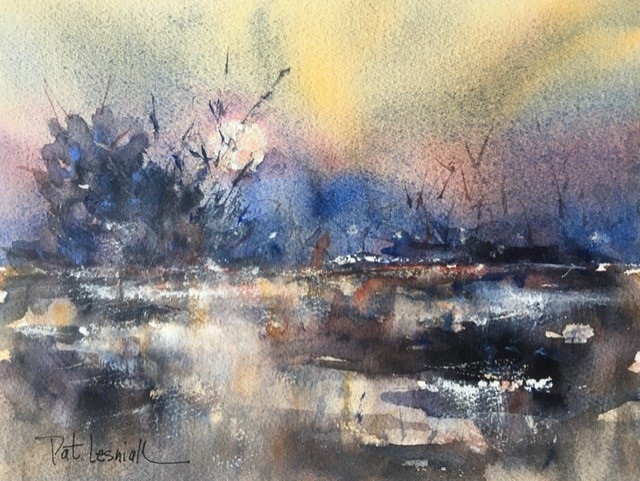 Pat Lesniak, Rochester, New York
My journey began over 30 years ago when I took an evening oil painting class at a local community center in Torrance, California. I loved it right away and over time kept taking evening and weekend classes while working in an office full time during the day. About a year or so after starting with oil paints, an instructor suggested the class try watercolors, that was it for me, love at first sight! It's been my favorite medium ever since. The instructor noticed how I was drawn to this medium and soon after I began teaching children to paint with watercolors at The Mission Renaissance Art School in Los Angeles, California.
Since that time, I've taken workshops with many wonderful instructors, always trying to paint in their style. But after all these years, after much contemplation and many beginnings and endings in water media, I've learned the only way to paint is in one's own style.
These paintings you see today are an accumulation of all I've learned over a long period of time from instructors, books, workshops, lectures, demos, teaching, working with students and most important practice, practice, practice!
The artist holding the brush needs to let this magnificent medium of watercolor dance and sway on its own, guiding and giving it direction, adding color, mopping up the droplets, and knowing when to put the brush down.
I hope you enjoy viewing them.
Commissions accepted: Portraits, Florals, Animals and Landscapes
Thank you kindly, Pat