A Little Night Music
Presented by The Little Cafe
Sunday & Wednesday Nights at 6:30pm
May 16 – June 16
$5 tickets • Assigned, distanced seating • The Jack Garner Theatre (Little Theater 5)
Live music at The Little is back! Favorite (and soon-to-be-favorite) musicians will perform live in the Jack Garner Theatre (Little Theatre 5) for an intimate audience each Sunday and Wednesday evening, May 16 through June 16. Due to the world we currently live in, these shows will operate differently than previous "Cafe music" performances: tickets are required, seats are assigned, masks are required to enter the building, and more. Please thoroughly read all the details below!
Tickets
Tickets go on sale weekly, on the Monday before, alongside movie tickets. See exact dates below.
Tickets are $5 each (+$1.75 service fee)
Each ticket includes a $5 voucher for cafe or concession items! (Only valid the night of the show.)
Due to pandemic-era capacity guidelines, tickets are REQUIRED. Seats are numbered, assigned, and cannot be combined or moved.
Seating is limited: we strongly encourage you to purchase tickets online, in advance! Tickets will also be sold at the door, if available.
Seats are in groups of 2. If buying a single ticket, the seat next to you will be also be removed from sale (i.e. no one will be able to buy a ticket for the seat directly next to you).
Date/Time + Food
Concerts occur Sunday and Wednesday evenings, Sun, May 16 – Wed, June 16.
Cafe Doors: 5pm
Theatre Doors: 6pm
Show: 6:30-8:30pm (with a roughly 15-minute intermission)
Kitchen closes: 8pm
Come enjoy dinner and a drink in the Little Theatre Cafe before the show! (Or take your food into the theater.)
Little Members receive 10% OFF on all Cafe items!
The concessions stand will also be open for your favorite popcorn, coffee, tea, and other concession items.
The $5 voucher can be used on any items at the Cafe or Concessions.
Safety Guidelines
The Little takes the safety of our audiences, performers, and staff very seriously. Before you buy a ticket or arrive, please read and understand the following information about this event:
All ticket-holders, performers and staff are required to wear a mask to enter the building.
Ticket-holders must wear a mask at all times unless you are actively eating or drinking, at a Cafe table or in your theater seat. Do NOT remove your mask when you are standing, in a hallway or common space, or to talk to staff.
Musicians may only remove their masks when actively performing.
All musicians are required to present either proof of vaccination or a negative COVID-test.
Audience seating is distanced at least 12 feet from all performers, and performers are required to stay within the performance area.
Tickets go on sale each week, beginning on the Monday before.
Monday, May 10 : Hanna PK (Sun 5/16) and Margaret Explosion (Wed 5/19).
Monday, May 17 : Bossa Nova Bradley Brothers (Sun 5/23) and Sally Louise (Wed 5/26).
Monday, May 24 : Bob Sneider Trio (Sun 5/30) and Big Blue House (Wed 6/2)
Monday, May 31 :  Classical Guitar Night (Sun 6/6) and Kinloch Nelson (Wed 6/9)
Monday, June 7 : The Rita Collective (Sun 6/13) and The Spring Chickens (Wed 6/16)
View full performer pages below for bios and weblinks.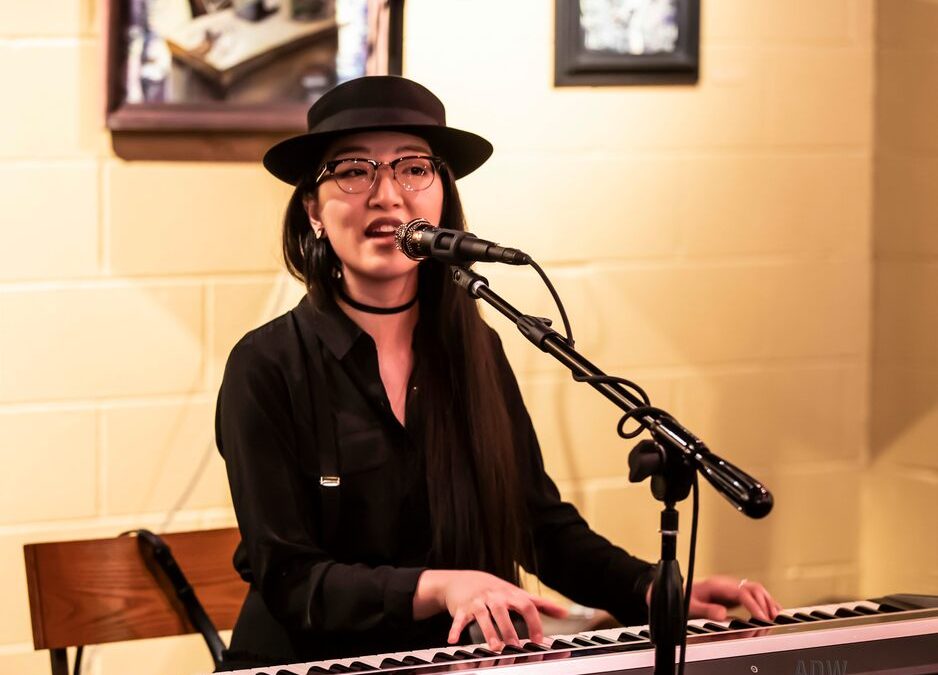 LIVE PERFORMANCEHanna PK Sunday, May 16, 2021 Hanna PK a 2019 International Blues Challenge Semi-Finalist -- a solid pianist, soulful vocalist, and vibrant performer who channels a wide variety of the blues & swing, old school folk and boogie-woogie but with her own contemporary realness, whether she's performing her story-telling originals, breathing new life into songs that may be 100...